Design Fictions and the Domestic
Part of my initial work for the HAT project involves scoping some of the Design Fictions that feature domestic systems that engage with the human and in some cases non-human. The concept of domestic may be at times obvious, at others it may be tenuous but I hope that I can reveal these in short comments. If you come across this page and would like to suggest Fictions or interaction pieces please email me. But for now let's see what the home of the future and past might involve…
1. Ericsson: Social Web of Things
Interesting, although rather obvious, social network cast over the white goods and appliances that await the return of their flat mate David.
2. HP: CoolTown
Buried soon after release the Hewlett Packard portrayal of future tech features a couple of domestic scenes: 3'15″ Spanish Lesson with a young student using her 'iWatch' as an interface. Who knew HP would skip iPads! 4'30″ is Mrs Walters who has a medical emergency, watch out for the rubber gloves that the paramedics wear – skin must not touch skin in the care system of the future.
3. Superflux: Song of the Machine
A combination of light sensitive proteins, headsets and sound lets Mark see again. Interesting portrayal of surface and texture from the bland touch pad to the world that he perceives.
4. Keiichi Matsuda: Augmented (hyper) Reality: Domestic Robocop
Special effects offer a host of new layers on the reality of a student flat. Through the layers of advertising, social media and data about the quantitative self / environment you can just about make out an actual kitchen in an actual home.
5. Berg: Clocks for robots
Berg have been looking for solutions for interoperability between devices for a while now and there use of a bar code is a simple conduit for exchanging data between devices. The visibility of the code and the need for line of sight is an interesting characteristic of the code, but one that makes the domestic 'cloud' more apparent.
6. Berg: Bonnier / Mag+
Not so relevant actually but there is something to think about as you watch it about how features / adverts in the magazine connect to the domestic environment. Berg don't explore this in the movie, but it might be relevant for HAT to consider how the content of what we read links to the things that we have in our home.
https://vimeo.com/8217311
7. Julian Bleecker: Design Fiction Vol.7
Julian Bleecker has made valuable cultural and technical contributions to the IoT conversation. Notably his paper: A Manifesto for Networked Objects — Cohabiting with Pi- geons, Arphids and Aibos in the Internet of Things.  In this collection of edits from well known movies he identifies the design fictions that we are now familiar with as design facts. Some domestic scenes in space, but worth reviewing to acknowledge the role that cinema plays in providing context, plot and consequences for technologies. Look out for: Gesture Interfaces, Transparent Displays, HAckers, Networks, AI, Pathological CPUs, Brain User Interfaces, AR, RealTime Analytics, Google Glass, HUD's, Real World Avatars.
8. Nicolas Nova and friends: A digital Tomorrow
More work from the Near Future Laboratory. Visions of a lifestyle from home to work and the role that the 'right' face, hand and voice has to play in authenticating ourselves within systems. Interesting insights into how spaces take on new roles as technology transforms the function of a particular environment.
9. Google: Project Glass One Day
You've seen it all before. This was the early concept video for Google Glass, a later promotion video is here. Notable how our hero leaves the pad and phone on the coffee table. There is also a shot at the beginning 10″ in that features a clock on the glass and what appears to be a hook on the wall – presumably because we no longer need shared time pieces.
10. Revital Cohen: Life Support
Cohen's work from the RCA Design Interactions programme offers a different sort of domestic role for animals. In these vivid photographic fictions she depicts how our dogs and sheep may become vital non-human life-support partners. I'd like to think that HAT can include the non-human occupants of some of the homes that we work with and consider them part of our Hub.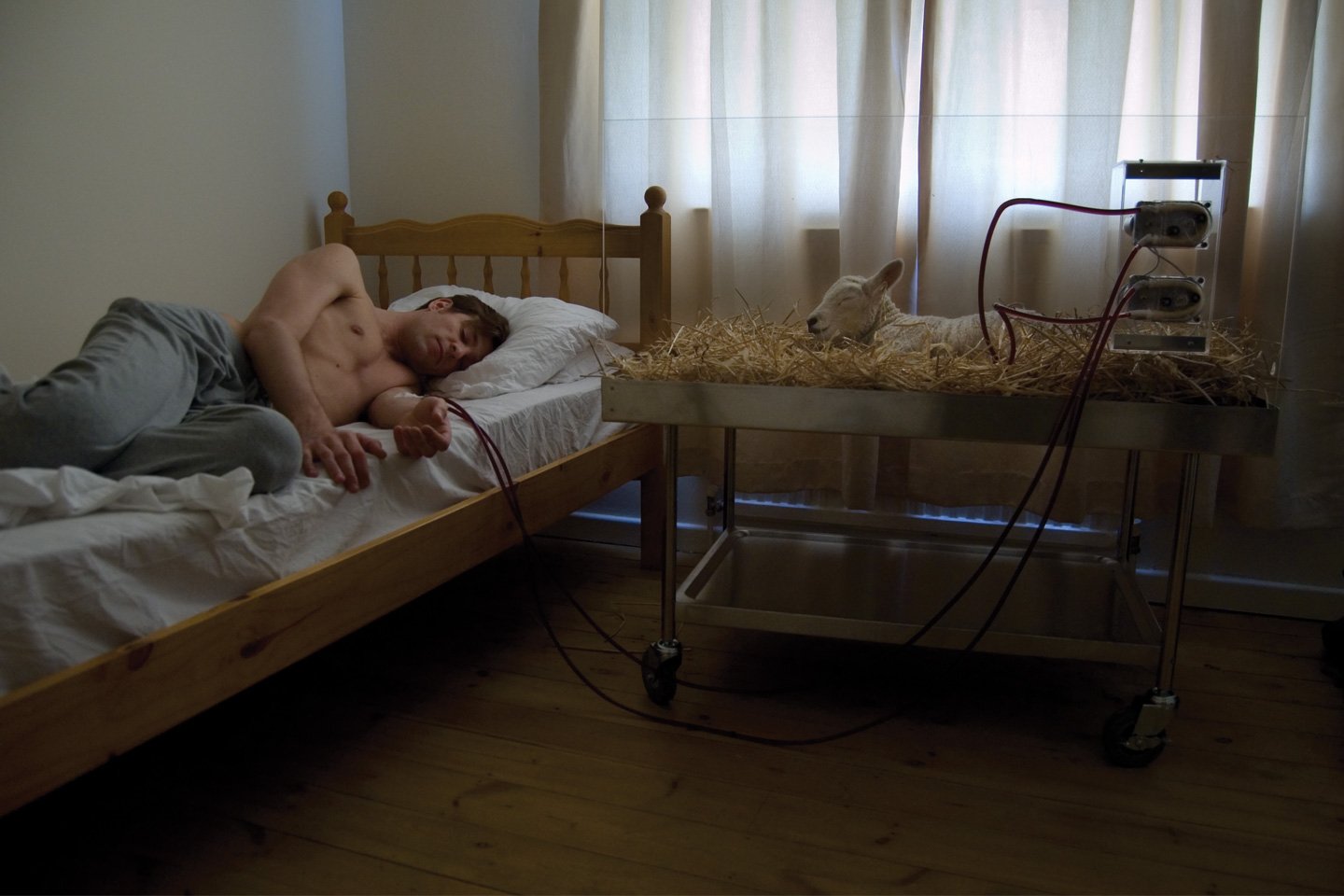 Please add comments below but remember to cite the number associated with each fiction so that others can track your interest.